The new Indoor Environments Show: Global Research to Action from ISIAQ & IEQ-GA debuts on June 30th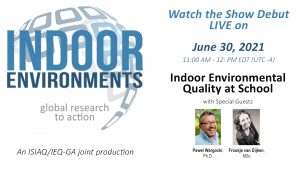 Indoor Environments: Global Research to Action is a new video show & podcast that explores at how research can be translated to practice on a variety of topics related to our build indoor environments. The International Society of Indoor Air Quality and Climate (ISIAQ) and the Indoor Environmental Quality Global Alliance (IEQ-GA) have partnered to create this unique show.
The show debuts at 11:00 AM ET on June 30, 2021, and is available for public viewing on the Healthy Indoors Online Global Community.
Season-1/Episode-1 focuses on the indoor environmental quality in schools, with guests Pawel Wargocki and Froukje van Dijken.
>> More information can be found at: https://global.healthyindoors.com/c/indoor-environments/indoor-environments-episode-1-indoor-environment-quality-at-school-and-learning